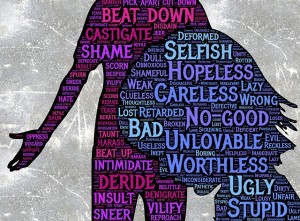 Who is your biggest critic? Your partner or boss? No. Your critic is staring right back at you through the mirror. No one has more power to criticize you as that little voice inside.
We all know how it starts: "You are not good enough. You don't know enough…. And it never stops, does it? No matter what happens there is always something that you find to criticize on yourself. Now what would happen if somebody else would give you the same treatment? Most probably you would stop them sooner or later!
Why is it that it is so much easier to stand up for ourselves when others criticize us but we keep listening to our own belittling voice inside?
Keep reading to find out four ways that you can send that cynical noisemaker packing.
4 Ways To Stop The Critic
Box up your negativity – literally. This is great exercise especially if you are deeply impacted by your own negative thoughts. In the grand scheme of our life, each problem holds only a small place overall. Seeing it as small minimizes its power over you. Get an empty box or buy a fancy box if you would like. The box needs to be small. Whenever you are plagued by a negative thought about yourself for the way you handled a problem or because you made a mistake, write it down on a piece of paper. Put it away in that small box. See your issue diminishing in size. Why not have a special, extra small box for the office so you can immediately deal with the "work critic".
Treasure all the good in you. Now get a big box (can be a shoe box that you decorate nicely if you wish) to keep all your achievements, strength, wonderful experiences in one beautiful place. Write them all down and put it into your treasure trove. When you feel negativity bubbling up in you, just look at all the goodness your big box contains!
Accept your imperfections. Oh, yes, you are not perfect. Nobody is. You might procrastinate or forget about your yoga class. You might not be able to do a headstand. Or you might lack effective communication skills. First there is something you can do about these things. Act proactive and find ways how you can improve those imperfections! The baseline is that all the less than perfect parts are still a part of you – the good, the bad, the ugly and the peculiar. Love who you are and then move on to making changes in your life.
Talk to somebody you trust. Explain the situation that makes you feel so bad. Allow a friend or co-worker to console you, counsel you and challenge that negative thought pattern that is condemning you. Depending on the situation, you might think about getting a personal or success coach help you. Many companies offer coaching support to their employees.
Many times stepping away from a situation that triggers your inner critic is the smartest choice.
Why not take advantage of a corporate yoga class to create that distance between you and the mean voice inside? At St. Louis Corporate Yoga we would love to support you so just give us a call at 314-630-1677 to see how a corporate wellness program will benefit your company.