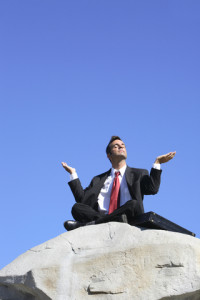 Yoga's acceptance in the workplace depends very much on how the management thinks about of this ancient practice.  If the CEO of a company has his/her experience practicing yoga and learned to appreciate its benefits, adding yoga to the corporate wellness offers is easy.
Why do CEOs love yoga?
We found 3 great articles about how yoga changed the perspective of leaders in different industries. Please enjoy the short excerpts and if you found them interesting, please go and read the whole articles.
Yoga has deeply influenced Stanton Kawer's (CEO and chairman of Blue Chip Marketing Worldwide) life.
"I love business. I am passionate about growing companies. Still, I can share that since I started practicing more than two years ago, yoga has profoundly influenced my life in every aspect. It has redefined my sense of self. I have changed as a husband, father, friend and leader."

"On a personal level yoga has been instructive in helping me redefine my expectations for achievement. Perhaps the most salient lesson I've learned is that there are no scorecards to define success. In the yoga studio there are no winners or losers. No umpires. No victory measured against the loss of another. In yoga success emanates from within and is defined by self-mastery."

"Yoga allows me to carry both equanimity and enthusiasm through my days. Ultimately it has allowed me to be a more effective CEO by making me a happier, healthier and more mindful human being."

Source: http://www.forbes.com/2011/03/25/yoga-meditation-better-ceo-leadership-managing-kawer.html
Mark Bertolini, chairman and CEO at Aetna had a very personal experience with the healing powers of yoga. After a serious skiing injury he embarked on a journey to heal his body from the damage caused.
His own experiences with nontraditional remedies lead him to start a study to understand the benefits of yoga and mindfulness at the workplace.
"To prove the effectiveness of these practices at work, Aetna collaborated with eMindful and the American Viniyoga Institute to craft a 12-week study, during which Aetna employees practiced alternative techniques to reduce stress as measured by cortisol levels and heart-rate variability.

"When employees are in the highest quintile of stress, their health care costs are $2,000 a year on average higher than the average employee," he said. "We saw dramatic drops in stress after the program was over, and we saw a 69-minute gain in productivity of our employees over a year," he added.

The increased productivity along with reduced health-care costs and lowered employee stress yielded an 11-to-1 return on the program's investments, Bertolini said, which added up to a savings of about $3,000 per employees per year.

"The other part that we couldn't measure that I think is far more important is being present in the work environment, and by being present making better decisions for the organization and those decisions depending on where you are in the company take a longer time to have an impact, and we'll see that over time" he added.

Following the study's success, Aetna has opened up its stress-management programs to the insurance company's customers and their employees.

Source: http://www.cnbc.com/id/100569740
Mark Hughes (CEO of C3 Metrics) shares about his experience with practicing yoga and the 3 principles he learned in the process:
"…I was beginning a journey learning more about myself and, surprisingly, more about business than I learned at one of the top ten business schools in the country and 20 years of professional experience.

Here are three things I learned:

1). Embrace Fear to Overcome Fear

"The headstand.  It's a pose in yoga that few novices relish.  But I envisioned it in my mind, embraced the fear of falling as real, the fear of injury as real, but temporary, and thus overcame that fear.

And with many other poses in yoga, the fear of falling, the fear of making your failure widely known in front of many people is entirely real.  But embracing that fear enables regular people to overcome great adversity in business.  It enabled Richard Branson to create a billion dollar enterprise from a basement.  It enabled Howard Schultz to go from subsidized housing to creating Starbucks.  Achieve power through fear and adversity by embracing it."

2). Transitions Make or Break You

The tough part is transitioning from one position to that position; that is what makes or breaks you.

Again, this is true in business and in life.  Doing what you've been doing isn't hard.  Transitioning from one position to the next is where failure abounds.

It's this transition that's a lot like business. Transitions require planning and execution with intense focus.

If you're paying attention, planning is the easiest part.  Transitioning from planning to execution is where things make or break you.  Without intense focus, you could slip and lose sight of the end goal.

3). Soul Needs Training

The whole "Namaste" "Ooohhm" aspect of yoga freaked me out.  What I've learned, though, is the complete yogi – and the complete CEO – are about positive energy.

Namaste is simply a phrase meaning "the light in me honors the light in you."  Whether you're Jewish, Christian, Buddhist, or Hindi, when you examine the phrase Namaste, it's really about energy.

Like nuclear power, it's energy that can be used for good or bad.  The amount of positive energy you bring to your office, your call, your meeting, is felt.  This is embodied in your body language, your smile, your gratitude, and gestures like opening a door and saying hi.  When a baby smiles at you, you smile too.  There is no complication in that exchange.  The amount of energy and light you bring reflects on people.  And sometimes that soul energy requires training.

Source: http://www.pickthebrain.com/blog/3-things-a-ceo-learned-a-yoga-manifesto/
What is your experience with corporate yoga? What do you learn during your practice that you will be able to use during your workdays? please feel free to share below in the Comments section! We would love to hear from you!
© Morganlane | Dreamstime Stock Photos & Stock Free Images