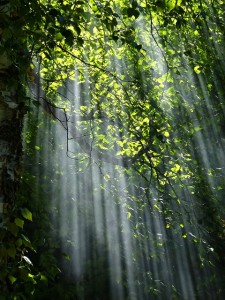 Ed Enslin, a devoted corporate yoga student with Clayton Yoga finds his weekly yoga classes incredibly beneficial. 
Having been always very athletic, Ed finds however, in his maturing years, the impact life can have on our bodies: "When I took my first yoga class, I was very stiff.  And I had several previous injuries that had not gone away."   Over 13 years ago, maybe longer, Ed suffered a right broken heel, and after surgery, and many more months of painful recovery, still found it difficult to put his shoe back on.  Even completing simple daily activities like mowing the lawn, left his foot feeling swollen for days.  Also walking up and down the stairs, he had to go one step a time time leading with the left foot only.
At this point, Ed knew he needed to do something and to make healthy lifestyles changes or things were going to get a lot worse.  Ed decided to sign up for his first corporate yoga session with Clayton Yoga.  What initially interested him the most was the low cost and outstanding value.  Because health insurance companies subsidize these corporate yoga onsite classes by more than 70%, individual students no longer have to carry such financial burden.  Ed Enslin, also enjoys the added convenience of onsite yoga classes.  Rain or shine, it is super easy to get to class!
The benefits he has found through attending classes are incredible. While he admits that very often before coming to class, he feels very sore and definitely is not pain free, soon enough, after a few yoga stretches, the soreness goes away.   Also, he is much more interested in keeping an eye out for high potassium levels in the body.
The wellness model has helped Ed Enslin realize what terrible shape he used to be in and how is able to change all of that.  The flexibility and learning that is taking place in my life now is incredible.  The practice of breathing prepares Ed for other office tasks too.   As he gets older, he finds that yoga also helps him to stay physically balanced as well.
He has even found in the past 4-6 months that attending two corporate onsite classes per week is not enough support.  He supplements more yoga with 1-2 additional yoga classes each week at Clayton Yoga studio.  Ed enjoys keeping his injuries at bay and his new found ability to take part in more and more of life's activities.  Now, he says he can walk up and down the stairs with two feet!
Ed Enslin finds the Clayton Yoga studio teachers to all be very intelligent, dynamic, active and people that he would want to be friends with.  Also, he looks forward to the yoga classes because students are cheerful and bright.
In working with is colleagues, he notices many positive changes there too.  People tend to become more social interactive.  They really look forward to class.  And quite frankly, it makes their day go by faster and folks are more productive.  Because of all these benefits, more and more students are also attending.  The benefits of yoga are there for everyone, but Ed advises that students do need to give themselves more than just 12 weeks to see all their dreams come true too!
Are you interested in being your healthiest and having your own best lifestyle?  If you are interested in more information about starting an onsite yoga class with Clayton Yoga, please contact Michelle at 314-630-1677 or info@claytonyoga.com.