Yoga Teacher Training Daily Schedule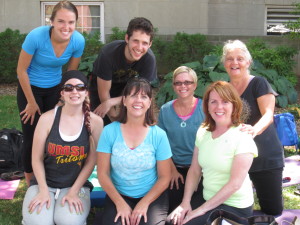 Restore, Breath and Yin 7am-9am
Learn 20 Yin Yoga Postures, 25 Key Restorative Postures, their benefits and the true power of breathing. These tools are great for corporate yoga as well as any background or setting. We will explain exactly the science as to why the breath is so key, and how you may utilize your breath to play the edge, activate the parasympathetic nervous system and how deep yoga breathing can actually save your life!
Time to Demonstrate Your Teaching Ability 9am-10am
Every Yoga Graduate will learn how to teach all level yoga classes in any background, work or job setting. Take the basics to the next level and learn how to design a personal sequence and offer private yoga while exceeding clients needs and helping them to find their personal best.
Ashtanga Yoga and Sanskrit 9:30-11:30am
Learn the Anatomy, Sanskrit and modifications for every single Ashtanga posture in the Ashtanga Primary Series Practice. This small and inclusive Yoga Alliance certification course will show you how to teach all postures including advanced yoga poses safely and effectively.
Sequence Practicing Teaching + Adjustments 11:30-12:30pm
All graduates will lead 20, 40 and 60 minute yoga flows and demonstrate within the yoga teacher training how to combine mindful movement with clear and simple directions. Creating an atmosphere of trust by encouraging students to honor their body and safely move students to their edge.
Lunch and Marketing Yoga Handouts 12:30-1:30 pm
This is your creative time. Take your Yoga Off the Mat and find out what inspires and animates your soul. We utilize our lunch break as an opportunity to absorb the morning new information and write new goals for yourself.
Yoga Nidra Practice 1:30-2:30 pm
How about a fabulous recharge? Learn how to both receive and lead in the Yoga Nidra practice. We have been teaching Yoga Nidra in our international yoga trainings for over ten years. This is an excellent therapeutic modality for the healing of mind, body, and spirit. Yoga Nidra exercises vary, get ready to feel deeply rested and at peace.
Practice Anatomy and Adjustments 2:30-4:00pm
Yoga postures promote healing and stimulate circulation in the body. Learning how to practice arm balances, or inversions for example, or finding new research findings to support a hunch! Specific articles will be shared in helping you continue to follow your dream and be a success.
Business Marketing TBA
Understanding how to confidently navigate your new training risky to making the most of your yoga! Whether you simply wish to deepen your practice of yoga or begin teaching yoga, this course will make time for your to develop your professional expertise as well. We will cover Passionate Why, Yoga bio, Tagline, Elevator Pitch, Action Step Plan, Yoga Promotions and Specialty workshop sequences.
Balancing, Inversions and Advanced Yoga Postures TBA
We finish with inversions and advanced yoga postures. These anatomy tips will safely prepare you to practice and teach all level yoga classes in any background or setting. Learn the key differences between good and bad pain, common misalignment, better anatomical tools and necessary adjustments to support every student.Turning the body upside down improves sleep, brings blood flow to the heart, balances the hormonal body, creates radiant, glowing skin, replenishes hair and relieves compression in the spine. Students depending on their ability may choose to forgo an advanced movement (for ex. headstand) while still continuing to gain valuable experience by watching others and asking questions.