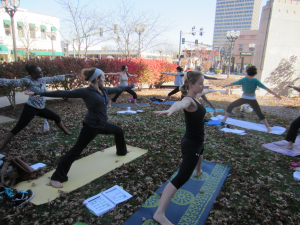 What is stress? Why does it take its toll on our body?  Stress manifests in our body as 'gruntis' or knots.  When we have anxiety or deadlines to meet, and misperceive ourself as unable to meet such needs, we feel stressed.  When we are friendlier with ourself, we feel we have more ability to take more risks and our belief in the self increases.
Our Corporate Yoga Classes teach and train students how to deal with the stress of everyday life, when they are asked to play the edge in every yoga posture and then remain calm.
When just the right amount of pressure, tension, stress and resistance, we can all excel and become stronger.  Challenges we face in the everyday life are hidden gems in disguise.
Human organisms don't thrive under cozy conditions.  They thrive when conditions are a challenge and the organism is fighting to become stronger.  A very famous French literary author Jean Paul Satre once said, we are all doomed to find within us our destiny of freedom.  I believe the freedom he was referring to was the opportunity to provide yourself constantly with life's second chances.  Or those moments when you face mistakes with a smile knowing these moments to be pivotal stepping stones for personal change and evolution.
The first teachings of the Buddha were that life is difficult but the good news is that we need not suffer.  When we develop or cultivate a warrior heart approach to life, we face the harsh wind and soften.  We develop a wisdom and knowing that life will knock us down again and again, and it is human to resist, but honoring our resistance is saying yes to the whole journey of transformation, not just the parts the suit us.
When we slow down at first initially, it may feel quite different, even painful to explore some of these dried out and neglected spaces within our own psyche.  This is why Pema Chodren says that it is essential to touch lightly our suffering and to always be gentle.
All challenge in our life is said to present itself as a personal obstacle course designed to teach us to move from our center.  When we do, we encourage newfound gentle wisdom to arise and allow the waters of our mind to settle and become clear.  It is then that we may access the prajna, or living wisdom of the heart, and find a solution.  Albert Einstein once remarked that you cannot solve the problem from the same place it was created.
The practice of awakening or enlightenment is to discover our own hero's adventure lies within.  It is never too late to pick up again our sword and defend our own honor.  Rather than fighting the dark, we understand the power of simply turning on a light.  Gentle loving kindness is the way.  Stiffness, tension, too much flexibility, all of these attributes define the way we view our world.