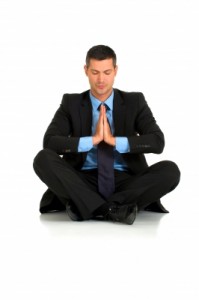 St. Louis Corporate Yoga offers local business professionals a way to get into shape, and relax right in their own workplace.  Our 10 year experienced yoga staff deliver great corporate yoga classes for both beginners as well as more advanced students.
These corporate yoga wellness programs help to decrease stress, increase positive attitudes, better problem solving skills, and overall greater company morale.
There are many various way to compensate financially such a program. Management can help to lower the cost. Insurance companies may offer direct reimbursement to St. Louis Corporate Yoga, and larger size yoga classes keep average price points low.
Our current client, St. Louis County, is happily being covered by their insurance company Blue Cross/Blue Shield.  Another corporate client with St. Louis Corporate Yoga, the Thomas Eagleton courthouse group, are saving a bundle paying out of pocket with larger group classes of over 20 students.  Their corporate yoga on-site program has been expanding now for over 8 years.
In 2008, St. Louis Corporate Yoga which ran its name under Bella Yoga, was featured in the St. Louis Business Journal for its work with Gallop, Johnson and Neuman, a local law firm in Clayton.  Please click here to read this wonderful article: http://www.bizjournals.com/stlouis/stories/2010/02/08/story13.html
Robert Droney, an attorney with Gallop Johnson & Neuman, helped spearhead the effort to bring yoga classes to the law firm. Droney said that taking a yoga class over lunch once a week gives him an energy boost and helps him clear his mind. "It is encouraging to have a wellness-minded employer.  In addition to flexibility, it has helped with my balance and posture, and it has helped develop more core strength in my abdominal and back muscles than what I have experienced with running, biking and swimming," he said.  Students though need not be athletes to reap the benefits of on-site corporate yoga. 
If you are interested in helping to increase employee wellness and vitality in the workplace, please contact us today at314-630-1677 or  info at claytonyoga dot com.
Namaste!
Image courtesy of Ambro / FreeDigitalPhotos.net