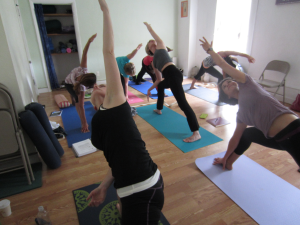 Are you interested in offering on site yoga classes at your company or organization? In this article we share the most important questions you need to ask in order to create the perfect program for your employees.
How does yoga fit with your company's HR strategy?
Why would you like to begin a corporate yoga program? What is your organization's vision of a yoga program? How does it fit into the company's employee benefits program?
Why yoga? What benefits will yoga provide compared to other wellness program?
How about the acceptance of yoga among your employees? Is yoga a welcome addition, a valuable offer for them?
Corporate yoga integration into the workday:
Corporate yoga classes run during the workday, mostly in the lunch break, although it can run right before or after work hours. How will this fit with the work systems of your organization?
Yoga classes run between 45-60 minutes. Employees will need only a few extra minutes to return to their jobs afterwards. The classes are designed in a way so students don't have to take a shower before returning to their tasks.
Financing the corporate yoga classes:
How will your organization finance the classes? There are many options available depending on if your insurance or/and employees will co-finance the cost of the classes.
You can require employees to pay a small fee per class. Even if they only contribute $2-5, depending on the class size a big chunk of the investment can be covered this way.
Independent yoga studio classes begin at $12 (as part of a package), single yoga class can cost up to $18. Contributing $4-5 to a corporate class is an excellent investment in comparison.
Finding space:
You will need to provide a big enough room for the class. Meeting rooms, company training facilities, conference rooms are good choices usually. An excellent yoga class space has enough space, fresh air, natural light, and a good atmosphere.  Most important is to create a calm environment for practice if possible. Even if the selected room doesn't have all these attributes, our experts will help you make the best of an available room option.
Can you provide some space for storing yoga mats, props for the yoga instructor and students? This is not necessary but certainly a nice addition.
Yoga group size:
On site yoga classes can take up to 25 participants usually. Even if you have 10 employees, it is still worth to begin with classes as usually more and more people want to take advantage of it as they see the positive impact their colleagues experience.
We don't recommend having a group of more than 25 students so everybody can get personal attention from the yoga instructor. You have more people interested in participating? Let us prepare a special offer for your organization!
We provide custom solutions for your company and employees. Please call us at 314-630-1677 so we can help you create the perfect on site yoga program for your organization's special needs.