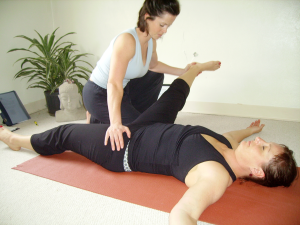 Did you know that St. Louis Corporate Yoga in addition to offering 11 weekly corporate yoga on-site classes also offers fantastic one on one yoga instruction to top level corporate executives and company team managers?
Our yoga on-site privates are very affordable and take place within the setting of your company.  The total cost includes sales tax, driving time and all handouts and is offered as a bonus package for companies that are promoting St. Louis Corporate Yoga classes at their workplace.
There are times when a company president or manager would prefer to practice outside the company of their work colleagues. Yoga postures are designed to open the meridians or energy centers, to help students to play their edge, wake up life force power, and feel empowered, calm and more peaceful throughout the day.
One to one personal yoga consultations offer a great way to work out and improve one's nutritional and wellness lifestyle.  Every week, we bring handouts and yoga sequences designed specifically for your body type and what your workout routine needs.  For personal training and yoga combined, the price is also very affordable.  St. Louis Corporate Yoga enjoys adding these bonus features to our already highly successful and very popular onsite yoga programs.
Typically, our yoga sessions run for 45-60 minutes.  This gives special clients the opportunity to ask questions to better help tailor their practice to meet their own individual needs and provide them with optimal support and encouragement. Then we offer a variety of modifications and adjustments to learning challenging and advanced postures.  Working one to one is an excellent idea and no matter where the client begins, we often see tremendous results happen quickly.
Greg Christoffel, a long time corporate private one to one client with St. Louis Corporate Yoga says "Yoga is difficult.  Needing time and support to better understand it all, yoga privates have given me the confidence and motivation to take better care of my unique body needs, inspire an ongoing diet that works great, improve my overall sleep, and let myself receive uplifting resources, yoga music, sequences to feel great."
We supply specific take home sequences designed to address specific needs of the client such as too much anxiety, depression or fatigue.  Many times, in a one to one session, the client is able to open up more quickly and learn about their own particular body.
Clients feel most comfortable to ask many types of questions and will receive answers directly related to their next step or level. This informal environment offers maximum guidance and support and great tips to encourage an at home and office practice to enjoy yoga throughout the week and encourage individuals who are beginners, and not wanting the burden of having other work colleagues distract them.
To book your private one to one yoga appointment, please contact Michelle at 314-630-1677 or go to our email at info@claytonyoga.com!  Let us help create a unique private yoga class that will support you in your personal empowerment to relieve stress and feel great today!