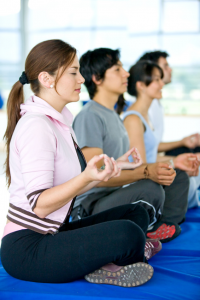 Welcome to St. Louis Corporate Yoga where we make yoga friendly, fun and accessible!
Interested in corporate yoga onsite classes? We offer yoga right to your doorstep! Since 2003, Clayton Yoga has initiated many on-going, successful wellness and yoga corporate programs throughout the metro St. Louis area. The style of yoga taught includes Vinyasa, yin, restorative and breath work.
In 2003 we began with two classes per week, today we offer over 11 weekly all level style yoga classes with more than 6,000 corporate classes having been taught.
In a workplace environment today, one of the greatest dangers is too much sitting. This sedentary lifestyle has many negative health side effects. Our corporate yoga classes is all about helping you to breathe deeply, get up and move!
When we stay focused on our own mat, we begin to open, quiet the mind and find inner peace. It really isn't about unlocking the perfect posture as much as learning to be with what is imperfect in a more gentle, loving way. A lot of people in our culture would be surprised to find out that their vulnerability and soft spots are actually treasures waiting to be revealed.
While we consider ourselves to be the experts in this field, it is important to know that your feedback is very important to us. We enjoy encouraging our staff to teach classes which inspire, providing new handouts, great improvements, and better yoga sequences.
Participation rate in class is important to us as well. Not everyone can make every single yoga class! Very often in our corporate yoga programs, we offer one make up class to take at Clayton Yoga Studio for FREE. Please come to class and please try to make it in when you can.
To read a bit more about what we offer and do, please click on one of our helpful yoga blogposts here:
http://stlouiscorporateyoga.com/get-unplugged-for-more-serenity/
http://stlouiscorporateyoga.com/what-exactly-is-meditation-and-can-i-begin-practicing-in-the-office-too/
http://stlouiscorporateyoga.com/how-to-deal-with-stress-in-your-workplace/
We would love to schedule a complimentary phone consultation at your earliest convenience to tell you more about our yoga wellness services and to empower your organization to better health. Let us help you bring yoga to your workplace, please call Michelle at 314-630-1677
Namaste!