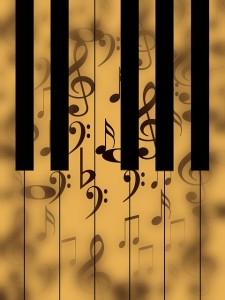 If you cannot escape stress, let's at least find ways to relieve the situation.
Music can help you cope with everyday stress! It helps to calm your mind and change your mood.
The wonderful impact music has on our lives is known for ages:
"Music has charms to sooth a savage breast, to soften rocks, or bend a knotted oak." – William Congreve

"Music gives a soul to the universe, wings to the mind, flight to the imagination and life to everything." – Plato

"The only escape from the miseries of life are music and cats…" – Albert Schweitzer

"Music expresses that which cannot be put into words and that which cannot remain silent" – Victor Hugo
Naturally, it makes a big difference what type of music you decide to listen to at the times of stress.  Hard rock, or fast paced dance music will create the opposite of the experience you are looking for. Your heart rate, your blood pressure might increase while listening to that type of music. Which can be very welcome, of course when you are looking to increase your energy or get into action.
For relaxation try to opt for soothing melodies, soft piano pieces – both classical and modern.
Classical music is known to reduce stress. Did you know that your breathing and heart rate will match the pace of the music you are listening to? Your brain waves are also changing in accordance – gifting you with a few sacred minutes of relaxation and joy.
What if you don't like classical music? There are a lot of "new age" artists producing relaxation inducing tunes. Don't forget about jazz – for some people jazz music will also do the trick.
The important thing is that you take a bit of time to explore which music soothes your nerves. Select a few favorites and have a playlist ready to listen to on your iPod. If you have a stereo headphone, you can listen to a few minutes of music even in your office.
One of the best places to explore the music you like and search for new pieces is YouTube. Just search for relaxation music, or new age or classical. You will get a wealth of videos to choose from and listen to. Look for Mozart, Chopin, Tchaikovsky clips.
A few of our favorite music "videos" on YouTube:
Tchaikovsky – Lake in the Moonlight: http://www.youtube.com/watch?v=_P65WNm48p0
Mozart – Symphony No. 40 in G minor, K. 550 [complete]: https://www.youtube.com/watch?v=JTc1mDieQI8
Frederic Chopin – Nocturnes complete: http://www.youtube.com/watch?v=V60USaluxGA
Relaxing Music: http://www.youtube.com/watch?v=zYe92a4vG-Y
LONG Playlist of Relaxing Soft Piano Music: http://www.youtube.com/watch?v=vCYk9CRx0g8
Why don't you spend on evening looking for the best relaxation music for you instead of watching the same old shows on TV? I am sure you will have a much better time and falling asleep like a baby will not be an issue, either.
Please share your favorite relaxing music pieces in the comment section below so our community can benefit from your recommendation! Thank you!