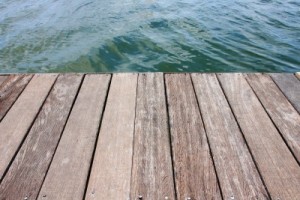 Playing the edge in each pose challenges us to find our own source of peace.  Playing the edge in each yoga posture brings about great self-imposed limitations which then help us to feel safe, cared for, and to be at home everywhere.  When we feel cared for and see this world as compassionate, alive and providing a soft landing.
The yogi knows that the true battlefield is not won or lost on the outside but exists within the realm of one's own psyche.  Stepping out of the comfort zone may be frightening but it keeps you in the flowing energy of the universe.
When we poke, prod, and stimulate opening places, it does not matter how far we go. We practice to listen to our own unique body today!  Many people practice yoga as a means to get someplace else.  This is not playing the edge, and the outcome reinforces our not good enough model. Slamming up against the sensations and forcing the body to open is a subtle form of violence that seeks to control, conquer, and reinforce negative messages between the mind and body.  It is far better to back off especially in yoga class, and allow your body appropriate time to soften, expand, let go, and become more centered and peaceful.
Being truly empowered is not about being invincible to life.  We live so often at the surface of life with all of its appearances-untapped to what is really possible.  Is it truly possible to achieve enlightenment, to wake up each morning and send healing and harmonizing messages to your body, thanking the great spirit for a brand new day.
There is a Chinese Proverb that says "a bird does not sing because it has an answer, it sings because it has a song". Real strength is allowing our ego to be strong enough to make those adjustments, to modify when needed and take child pose if necessary.
Yoga and playing the edge provide us continually with an awareness of this test and help us stay neutral and present to the learning process. The time when we walk backward into our uneasy qualities about ourself like being controlling, anxious, blaming, or judging are tremendous eye opening experiences.  If someone asks you to point to who you are, one finger draws close to the heart.  Our greatest weakness is our greatest strength because it is there in our own mind that we must fight the greatest of all battles. Many saints in India tell us to do our duty wholeheartedly and then let it go.  Let go of all of the stuff, things like unrealized expectations, perfectionism, and clinging or neediness.  See it, put your awareness there and then drop it, like a heavy stack of books.
Yoga and relaxation does not cure us of life's mystery, it only serves to clarify how much bigger we are then these personal struggles and gives us ample time to transform blocks into learning.
To get a corporate yoga onsite class started, please contact info@claytonyoga.com or 314-630-1677 today! Namaste.
Copyright (c) 123RF Stock Photos