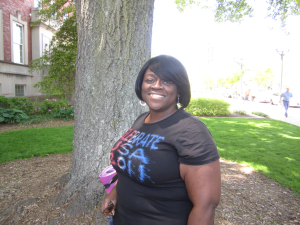 Presenting corporate yoga programs for over ten years, St. Louis Corporate Yoga now teaches 11 corporate yoga classes each week and offers several more private yoga classes to top company executives too.
The top benefits for having on-site yoga classes is the convenience, the team building, fun and challenging movements and the incredible vitality and energy clients feel throughout the day.
The reason yoga is so successful is its emphasis on the breath.  Poor breathing is the cause of much tension, stress, exhaustion and anxiety. And even more importantly to understand, poor breathing is an epidemic bad habit in today's society.
Our yoga instructors will guide clients to learn how to practice yogic breathing.  This deeper breathing will allow for greater circulation with less work, less stress on the heart, improving the overall cardiovascular system and enhancing ability, comfort and awareness in difficult situations.
Here is what several of our corporate clients had to say:
"I can handle the daily problems and hassles better and I have a new variety of positions or movements from yoga to help alleviate my back pain. Many of these I can do during the day, even in my office. I highly recommend Michelle's class and have so to many friends." Tom Hinton

"Yoga has improved my overall health and attitude personally and professionally. I am stronger, calmer and more focused. I recently participated in the biometric screenings and ALL of my numbers were great." Natalie Warren

"Yoga has helped me reduce stress and tension. My balance has improved as I am getting older. The breathing aspect has helped me to quit smoking." Donna Boeger
St. Louis Corporate Yoga offers a variety of levels in each yoga class.  No matter what background and level of ability, every yoga client is encouraged to join and attend class.  Because the emphasis is on how you feel and not how you look, St. Louis Corporate Yoga motivates and empowers everyone to be their own personal best.  When we are true to our heart, the world bends to support us.  Authenticity comes from the soul, not from the ego.
More and more companies are seeing the direct benefits of offering company yoga to their employees.  Insurance premiums are lower.  Employees report heightened satisfaction at work.  In just a few short weeks, clients report greater inner strength, motivation and sense of purpose.
At St. Louis Corporate Yoga, we truly believe that everyone can practice yoga.  And that once we find the support is there, we change the way we look at things, and with that newfound perspective, everything in life naturally follows. It is true that life is simply a stretch!
For more information about St. Louis Corporate Yoga, please contact us at 314-630-1677 or email us info@claytonyoga.com.  Also to view more corporate yoga video testimonials about this program, please click this link here: http://claytonyoga.com/corporate-yoga/