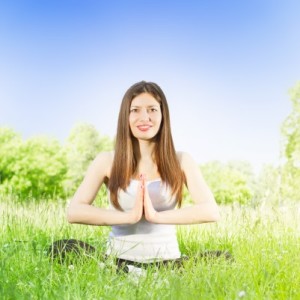 No one is immune from feelings of frustration from too much expectation or competition.  Tensions can arise especially in the workplace. Practicing yoga and looking at our breath can greatly neutralize excessive stress.  When we redirect our attention to the breath, we find the unity and peace is there.  According to Wayne Dyer, when we stay connected to spirit, nothing can go wrong.  Judging another only makes us someone that needs to judge.
In order to develop a calm, equanimous mind, we look to our breath.  After just one minute or longer, with the practice of deeper breathing, we feel more energized and refreshed.  Too much work often results in poorer overall performance and results.  Try to step back several times throughout the work day and simply be aware of your breath. 
I began practicing yoga sixteen years ago to find inner peace.  At 26, I was a restless, and very anxious first time mother.  I wanted to be a great mom.  So, I decided to try yoga.  At first, I found it difficult to stay focused and concentrate on one pose at a time. My mind wanted to race around so many times!  I must be honest, because my body was so flexible, it gave me courage to keep trying to calm my brain.  After practicing yoga regularly for 6 months, I definitely noticed I was less judgmental both with myself and with others.  Now after 16 years, my mind may still be unruly and reactive, but now I want to learn how to work cooperatively with others, soften their burdens and be happy.
Yoga corporate onsite classes has this same softening effect on our clients.  Many students reports that they feel less tension at work, greater energy, more vitality and more patience with their own approach to learning.  Students tell me that they practice the breathing on the plane, while in a meeting or completing a project.  Corporate yoga students enjoy learning how to breathe the yoga postures apart in order to enjoy all the benefits yoga has to offer.  They are most appreciative for the all levels yoga approach that St. Louis Corporate yoga classes offers and find that stretching with their work colleagues is a great way to build a cooperative and collaborative, fun work atmosphere!
By gently coming back to the breath, we can all release negativity and develop a stronger mind.  In truth, I think the universe wants us to enjoy our tasks and to have a greater sense of ease with life's responsibilities.  It is certainly more fun to let go of things we cannot control and learn to stay calm, and be more focused.
Finding greater discipline to stay in there in times of challenge helps us to cherish and awaken loving kind energy and vitality at the workplace.  Let us help you design a unique yoga corporate program that fits your company's needs today!  To get a free phone consultation with St. Louis Corporate Yoga, call 314-630-1677.  Please join us!

Copyright (c) 123RF Stock Photos