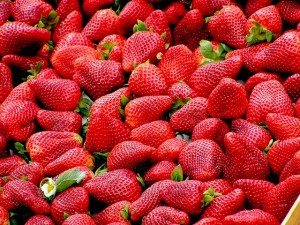 Let's think luscious red today! From time to time we love to mix up the topics we write about in this blog. Now that it is officially summertime, let's talk about strawberries.
Do you get your daily 5 servings of veggies or fruit? For most of us this is clearly a challenge! Many times we just blame it on not having time or the energy for healthy eating. It is just so much easier to pick up some fast food or order in.
What if there are easy and quick ways to add some berries to your diet this summer? Fast food a' la strawberries! Prepare these meals at home, take to the office and you never have to compromise for unhealthy fare – at least not during the berry season.
Strawberries – plain and simple
Clean 1-2 pounds of strawberries at home. No, you don't need sugar on top! Enjoy the natural flavor of a strawberry, they are just heavenly! Cut them up or leave them whole – it is easy to transport those berries to the office. If you packed too much of the good thing… I am sure your co-workers will be happy to enjoy this summer treat with you!
Did you know that you can add vinegar to the water when you wash those berries? Let it sit for a few minutes to work its wonders. Vinegar will help get rid of dirt and fights harmful bacteria in the process. Rinse well afterwards!
Strawberry salad
Clean and thinly slice the strawberries. Sprinkle them with extra virgin olive oil, fresh grounded pepper and some pink salt! Yes, you will love this salad! Even if you feel that peppers and strawberries don't go well together – they are a match made in heaven. Add a few leaves of green salad if you would like to create a full salad and you have lunch ready to go.
Strawberry Soup with Cinnamon Croutons
Craving a filling soup for lunch? Here is a heavenly recipe from www.TasteOfHome.com with a prep time of only 15 minutes!
Ingredients
1 quart strawberries, halved
2 cups apple juice
1 cup (8 ounces) sour cream
1/2 cup packed brown sugar
1/2 cup honey
2 tablespoons lemon juice
1-1/2 cups half-and-half cream
3 tablespoons orange juice, optional
CINNAMON-SUGAR CROUTONS:
3 slices white bread, crusts removed and cubed
2 tablespoons butter
1 teaspoon cinnamon-sugar
Directions
In a large bowl, combine the first six ingredients. Place half of the mixture in a blender; cover and process until pureed. Transfer to a large bowl. Repeat with the remaining strawberry mixture.
Stir in cream and orange juice if desired. Cover and refrigerate for 2 hours.
Meanwhile, in a small skillet over medium heat, saute bread cubes in butter until golden brown. Remove from the heat. Sprinkle with cinnamon-sugar; toss to coat. Cool. Stir soup before serving; garnish with croutons. Yield: 6 servings.
This recipe is from TasteOfHome.com http://www.tasteofhome.com/recipes/smooth-strawberry-soup Check out the site for more awesome recipes from the best home cooks of the nation!
Strawberry in chocolate – perfect for those low-energy afternoons
Clean the strawberries as usual. For this lovely treat it is best to use large strawberries – don't cut them up! The other ingredient you will need is a good quality dark chocolate bar.  Break it up into small pieces and melt the chocolate slowly in a glass bowl over a hot-water bath.  (Do you need tips on melting chocolate? You can find them here: http://candy.about.com/od/workingwithchocolate/a/meltchocolate.htm)
Dip the strawberries one by one into the melted chocolate. You don't want to cover the whole strawberry with chocolate, though – this will save on some calories plus it makes it easier to eat the chocolate covered strawberries in the office.
Place the berries on a baking sheet and either wait until the chocolate gets firm or place it in the fridge/freezer to save some time. If there is any remaining… take them with you to the office!
Enjoy these strawberry treats for a healthy lunch or as a snack. They are even light enough to eat after your corporate yoga class!