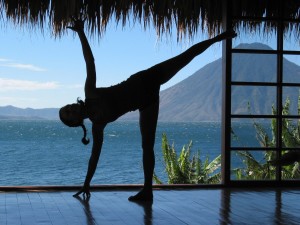 Having the opportunity to take corporate yoga classes during the workday is awesome to find relief from every day stress. If you fell in love with yoga at your organization, why not practice more during the week?
In our corporate yoga programs we teach Vinyasa yoga as this type of yoga is very easy to integrate into a work day. You won't need to take a shower and you can get back to your desk immediately after class. Still you will enjoy a full workout and experience stress reduction as a result.
Although Vinyasa is the fastest growing yoga style for a reason, there are many different yoga styles you can experience! Which one will work best for you? The only way to find out is to try them and see how you feel after taking a class. Check out the yoga studios in your neighborhood and try different styles. Your gym might offer different type of yoga classes, too.
Besides experiencing different yoga styles, you might love to practice more than just that one class at work. We invite all out corporate yoga participants to visit us at our Clayton Yoga Studio in Clayton. For information about our studio, please go to our website.
Especially if you are a beginner yoga practitioner, we advise you to take live classes and not online ones. You will need the caring eyes of a certified yoga teacher to help you practice yoga in a totally safe way. Your instructor will be able to show you modifications of poses to fit your body's special needs. Plus nothing substitutes the encouragement of a personal interaction with your teacher and fellow students.
Online yoga classes can be a good option if you are at least at the intermediate level and already have a good understanding of the poses. If you are generally healthy, taking a virtual class can be a good option. Please be mindful that you need to be cautious as there is nobody to support you on the spot.
As a general rule of thumb, if you have health issues or you are not yet confident in your yoga practice, we advise you to take the extra effort to practice at a studio.
One excellent option could be to take private yoga classes where the attention is 100% on you. You work very closely with your yoga instructor to create the best possible yoga plan for you. You get undivided attention and instruction. Our yoga teachers are more than happy to provide private classes at the studio.
Have you thought about taking a yoga retreat? This is the ultimate yoga experience! One week or more at a fabulous resort to forget about all the challenges in your world. Being immersed in your yoga practice, taking care of your soul and learning new ways to find meaning in life. A quick search online for yoga retreats will give you a colorful list of many possibilities.
Clayton Yoga International offers a unique yoga retreat and yoga teacher training combo next summer in Guatemala (June 28th-July 12th, 2014). Would you like to explore Guatemala while enjoying daily yoga work to deepen your practice? Learn more on our Clayton Yoga International site!
The opportunities are practically endless to practice yoga. Take the ones that fit your life and delight your soul!