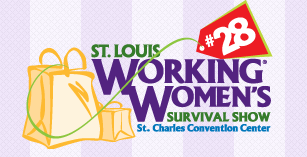 In just a few weeks, Clayton Yoga will present a yoga demonstration at the St Louis Working Women's Survival Show! The date for this fantastic event Saturday, February 22nd, 2015 4:00-4:30pm. We will be offering you great yoga tips and a fantastic yoga sequence for energy, vitality and joy!
As the owner of Clayton Yoga and creator of St. Louis Corporate Yoga I have taught over 2,000 corporate yoga classes to over 800 corporate yoga students employed by wellness-minded companies since 2001. After working with numerous companies in the Greater St. Louis Area I know how to design and implement corporate yoga programs that deliver the desired ROI and benefits to both the employer and employees. I enjoy leading yoga teacher trainings where I train and empower other yoga instructors to teach yoga in the corporate setting.
All St. Louis Corporate Yoga teachers graduated from our Yoga Alliance certified Yoga Teacher Training run by Clayton Yoga. Feel free to contact me directly to discuss how I can help you create the best corporate yoga program for your company's and employees' needs. I can be reached at info@stlouiscorporateyoga.com or (314) 630-1677.
The Working Women's Survival Show began in St. Louis in 1988. The Show, now in its 28th year, has food, fitness, fashion and fun. The Show features the latest and greatest in product and services from over 370 exhibitors all over the country. Overtime the show has evolved into the Ultimate Girl's Day Out.
The experience is like no other; there is a mall, a spa, a fitness club, fashion shows, live entertainment, a chef's kitchen, a 5k race and a vineyard. There is something for everyone of all ages at the Show.
The best part about the Working Women's Survival Show is the inexpensive price. The cost is just $9 per day!
Here are the four different ways you can get your ticket.

1) Online Purchase
Tickets can be purchased online at www.wwssonline.com .

2) Box Office
You can also purchase tickets in advance at the St. Charles Convention Center box office. If purchased on days of the show only, a $1.00 per ticket service charge will be added.

3) Two-day Wristbands
You can purchase two-day wristbands from our online ticket site below. Wristbands are good for two days of access and will be mailed once the purchasing process is complete. Purchase by 2/14/14 and they will be mailed to you. After 2/14/14 they will be held at the box office of the Convention Center.

4) Discounted Tickets at Dierbergs right up until the day of the show!
Our current students in our corporate wellness classes say they enjoy the convenience, excitement and positive energy that onsite yoga classes bring. Would you like to create a new healthy habit? Take advantage corporate yoga classes offered at your workplace!
No office yoga at your company yet? Let's change this! Please call Michelle at 314-630-1677 so we can create the best on-site yoga program for you and your colleagues!