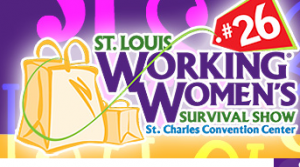 Clayton Yoga presents at the Working Women's Survival Show this upcoming February 23rd + 24th, 2013. For the very first time, Michelle Maue will demonstrate yoga to this lovely group of people.  It will be a thirty minute yoga demonstration to put people at ease with practice of learning yoga.  We will present yoga at 4pm on Saturday, February 23rd, 2013 and 12pm on Sunday, February 24, 2013.
Did you know how yoga increases our resiliency to stress?  Yoga opens up energy centers in our body and helps us reconnect with our natural energy flow.  This creates better health and greater overall confidence.Are you aware that stress itself is actually healthy for us? In this fun and important yoga demonstration, Michelle will show you just how to breathe and feel great.
Yoga postures are over 2,500 years old and designed to open the nadis or energy centers throughout the body.  When we practice yoga and breathe deeply, we give ourselves a chance to connect with natural vitality and feel refreshed, recharged and centered.
Yoga and meditation is a very powerful medicine designed not only to support better health, but also provides us with a great system we can customize to meet our own particular needs.  Most of us for example, have a great deal of anxiety and stress in today's modern world.  In navigating through the present moment and in relationships with our coworkers, we can sometimes get stuck in a rut.
We may find that we often get upset with others or ourselves.  Rather than being a perfectionist, yoga helps us release control of the situation and remember to trust.  Rather than being fixated on getting someone else to change, yoga empowers us to let go and simply let good.
Yoga when done properly connects us with our body and our heart chakra.  This is where we find our empathy and reconnect with universal intelligence, rather than the use of brute force, we find natural vitality and trust again.  It is there that we get back into balance with the earth and transform this world by being an example as Ghandi once said thus making it a great collaborative place to live.
In addition to covering these main yoga points, we will also be giving away free gift bags and empowering yoga handout tips on better ways to find relaxation, courage and success.  And of course, the very best part is that we will share with you, just how easy it is to get yoga started for your company!
For over ten years, Clayton Yoga has delivered corporate yoga wellness classes throughout the greater metro St. Louis area.  Currently we offer 11 corporate yoga classes each week to many different companies and organizations.
Research shows that students who attend corporate yoga wellness on-site classes have fewer doctor's visits, greater vitality and productivity at the workplace.
Please come out and join us! See why thousands of women will be interested in attending such a fabulous show as the 26th Annual Women's Working Survival Show.  To see more information about purchasing your tickets, please go the following website at www.wwssonline.com today!