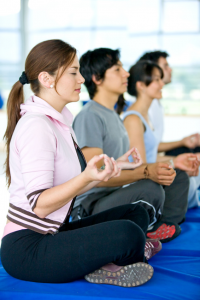 St. Louis Corporate Yoga offers lots of benefits to corporations willing to invest in employee wellness programs.  Michelle Maue, owner of Clayton Yoga, creator of St. Louis Corporate Yoga and leader of Clayton Yoga Teacher Training has trained over 100 St. Louis corporate yoga instructors since 2001.  St. Louis Corporate Yoga Instructors offer the best yoga classes available in the industry today.
A study done at University of California at San Francisco has confirmed that stress really does age you.  According to Thomas Perls, MD, "it isn't the amount of stress that matters, but how you manage it".  (articles, "10 Secrets to a good, long life" July/Aug 2005 AARP, the magazine).
Corporate yoga revitalizes the immune system and the major organs of the body; removing waste products up to three times more quickly.  Improved immunity means less workdays lost through colds, fatigue and other non-specific illnesses.
Yoga calms and energizes the nervous, endocrine, and caridovascular system and awakens hidden reserves of energy and vitality.
Regular on-site corporate yoga classes also develop stronger bonds between the employees and staff.  When people take yoga classes together, they build better avenues of communication and trust between one another and have fun.
Tom Hinton, chief investigator for the U.S Federal Government started taking yoga for chronic lower back pain and found that "yoga helped me to detach from the problems, lower my stress and anxiety, push distractions away and increase my flexibility.  I also love the music and quiet soothing instruction.  I highly recommend St. Louis Corporate Yogato anyone".
With more than 10 years of experience, we are aware that every company is different and requires a unique approach.  St. Louis Corporate Yoga saves time by offering professional, courteous service.
To sign your company up for corporate on-site yoga classes, contact Michelle Maue at 314-630-1677 or through our Contact page.